Guidelines for Eating Fish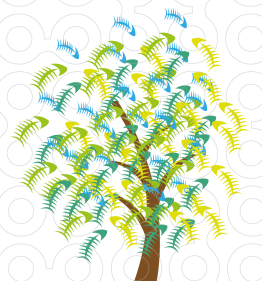 One of my favorite quotes is a Native American Proverb, which states:
"No tree has branches so foolish as to fight amongst themselves."
I think about this every time I see an instance where we act in a manner for our own benefit without any regard for the world or anyone around us.
We are told that consuming fish is good for our health and it is but consuming "too much" isn't so healthy for certain fish. These fish are perilously low in numbers or are caught using environmentally destructive methods.  How in the world do we not realize that we will ultimately pay the consequences if we are not careful? Have we not realized that we are all part of that same tree and if we kill part of it, ultimately all of it will die?
The Food and Drug Administration, which tests fish for mercury, and the Environmental Protection Agency, which determines mercury levels that are considered safe have categorized fish from those containing the least mercury to those that contain the highest levels:
Please remember, when reading the list that certain fish, even though they may be low in mercury, are not a good choice because they have been fished so extensively that their numbers are perilously low. I've listed these in RED for your convenience.
LEAST MERCURY
Anchovies
Butterfish
Catfish
Clam
Crab (Domestic)
Crawfish/Crayfish
Croaker (Atlantic)
Flounder*
Haddock (Atlantic)*
Hake
Herring
Mackerel (N. Atlantic, Chub)
Mullet
Oyster
Perch (Ocean)
Plaice
Pollock
Salmon (Canned)**
Salmon (Fresh)**
Sardine
Scallop*
Shad (American)
Shrimp* Sole (Pacific)
Squid (Calamari)
Tilapia
Trout (Freshwater)
Whitefish
Whiting
MODERATE MERCURY
(Eat six servings or less per month)
Bass (Striped, Black)
Carp
Cod (Alaskan)*
Croaker (White Pacific)
Halibut (Atlantic)*
Halibut (Pacific)
Jacksmelt
(Silverside)
Lobster
Mahi Mahi
Monkfish*
Perch (Freshwater)
Sablefish
Skate*
Snapper*
Tuna (Canned
chunk light)
Tuna (Skipjack)*
Weakfish (Sea Trout)
HIGH MERCURY
Eat three servings or less per month:
Bluefish
Grouper*
Mackerel (Spanish, Gulf)
Sea Bass (Chilean)*
Tuna (Canned Albacore)
Tuna (Yellowfin)*
HIGHEST MERCURY
AVOID eating:
Mackerel (King)
Marlin*
Orange Roughy*
Shark*
Swordfish*
Tilefish*
Tuna (Bigeye, Ahi)*